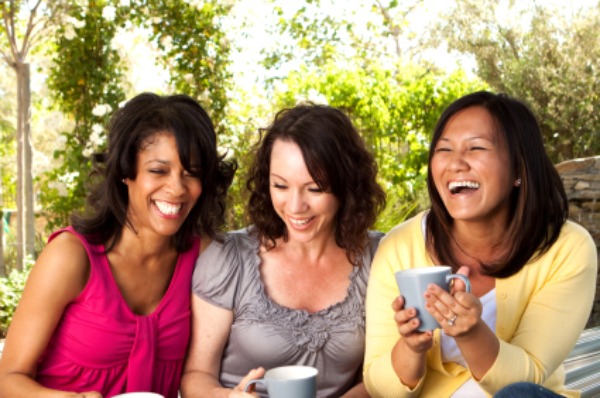 (PhatzNewsRoom / Match.com) — After a lifetime of people asking why you're still single, at last you've met a good guy. These past weeks and months, you've spent a lot of time getting to know each other and you're enjoying learning the intricate details of his life. In fact, you know he has his job review this week, that he thinks his favorite team will finally make it to the playoffs this year, and that he's considering upgrading his BlackBerry.
But have you noticed that something's missing? Yes, you can reel off your guy's usual order at the burrito place — extra pico de gallo, please! But what about your girlfriends? What's going on with them? How long has it been since you've talked… a week? Or three?
In the blissful early days of a relationship, it's easy to act as if your beloved were the only thing that's important in your world. Because that's the way it feels. And by the way, it feels fantastic. Euphoric, even. So what's the problem?
Believe it or not, you may inadvertently be adding to your stress level. A new study shows that bonding with your girlfriends ultimately helps you relieve anxiety. We all know that a long, chatty dinner with the girls leaves us smiling and more relaxed. Now, a study recently published in Hormones and Behavior helps explain why.
Researchers at the University of Michigan set up pairs of women who didn't know each other and had them perform either a bonding exercise (asking and answering intimate personal questions) or a colder, more administrative task (correcting errors in a scientific paper) with each other. After the exercise, researchers measured the levels of progesterone in the women's saliva, and found that the pairs who had done the bonding exercise had higher levels than did the other pairs.
"Progesterone has been shown to exhibit antistress properties," says lead researcher Stephanie Brown, Ph.D., assistant professor in the University of Michigan Department of Internal Medicine. "So this study corroborates what we know instinctively: that close relationships are good for our health and well-being."
So why is it so common for us to let our girlfriends slide when we find a new man? There's biology behind that, too, says Kim Leatherdale, a couples counselor. "The whole process is chemically drenched," she laughs, then goes on to explain: our hormones urge us to connect with a mate so that we can help propagate the species. And it can be difficult to turn that tide.
Social cues drive us, as well. "Unfortunately, many women still define themselves by their relationship status," says Karin Anderson, Ph.D., assistant professor of psychology at Concordia University in Chicago. Some women may feel like they're not where they're supposed to be unless they have a man. So they treat their friends as placeholders until they get a boyfriend or a husband. Then they ditch the girlfriends and put all their energy into their romantic relationship.
Besides its being extremely rude, we now know that this behavior damages our health. And there's also the very practical matter of perspective. "No matter how robust your relationship with a boyfriend or husband, there are many things that women can share only with other women: emotional issues, their concerns about their bodies, problems with their mothers and more," says Irene S. Levine, author of Best Friends Forever: Surviving a Breakup with Your Best Friend. "Female friendships are some of the most important and enduring relationships in a woman's life," she adds. You simply cannot replace them with a romance. "But friendships don't last forever on their own. They need to be nurtured," she adds.
So how can you tell if you've been treating your pals like so much chopped liver? And what can you do about it?
"Your friends may make comments about how they never see you anymore," says Anderson. "Pay attention to those. Notice, too, whether you check with your boyfriend's schedule before you agree to get together with friends. Or if you want to bring him everywhere you go, even to something like a girls' night out." If you notice that there's no room in your week for time alone with girlfriends, act quickly to remedy the situation!
Girls' nights out (they can be Saturday mornings or Tuesday afternoons, whatever works for your gang) are critical events to keep on your respective calendars. "Make sure you have them regularly — maybe once a month — and that everyone knows they are not cancelable," says Leatherdale. "By the same token, make sure your plans are respectful of your relationship. If your typical night out with the girls leaves you exhausted and cranky the next day, which puts a strain on your relationship, find something that works better."
Try these tips suggested by Felicia Morgenstern, writer, performance artist and founder of Poetic Passports, Inc:
Join the same gym or take a class with a pal. Sweating it out or learning something new together is a healthy way to stay connected.
Remind your gal pals every now and then that they matter to you. It can be as simple as a call or a random card. A little effort goes a long way.
Do not, I repeat, do not spend all your time with the girls talking about your boyfriend!
If you're the man in this equation, is there anything you can do to keep your sweetie in good touch with her pals? There sure is:
Let her know that you don't expect to have her attention around the clock, and that you are not going anywhere. Encourage her to keep up her social life with her friends. It will benefit you and the relationship in the end.
If she seems skittish, suggest that she see her girlfriends first, and then you'll meet her at her place later so you can sleep in each other's arms, suggests psychologist Paulette Kouffman Sherman. This way, she gets to see her friends and you.
Make an effort to get along with her friends and not to complain about them. You don't want her to feel she has to choose between them and you.
Cary Barbor is a freelance writer based in New York.
Related Links: